The warmth of family business
It all started in 1998. Then the idea to produce high-quality stainless steel heated towel rails sounded in the circle of a large and friendly family.
Towel rails for the whole life
Our mission is to produce high quality stainless steel heated towel rails, which are guaranteed to serve to every family a lifetime.
Practical and shiny stainless steel
Incredibly eye-catching products is made from high quality stainless steel. Our creative designers are
constantly inspired by this material.
Practical use
with modern design
Eco-designed electric rails
with timer-regulator will help to achieve sustainability and simple but modern design will fit
into the present-day interior.
Reflects your good taste
Light reflected on the stainless steel shows all the details of high-level craftsmanship. Wide range of
products allows to enjoy the details.
High quality raw materials
Big range of products
50 years warranty
Ecological production
History of Mario ME Ltd
The history of the famous Ukrainian brand Mario, the leading manufacturer of stainless steel towel warmers and design radiators starts in November, 1998.
Starting a family business, a father with two sons created the first stainless steel towel rail. The product became the basis of the family business and became the start of the development of the enterprise.
1254
Partner stores throughout Europe
19
We export products to 19 countries
100%
Stainless steel products
Pipe cutting
01
Before production begins, it is necessary to cut the pipe into the relevant segments according to the drawings of future products. Stainless steel pipes require very precise cutting equipment to reduce inaccuracies in connections, waste and use raw materials with maximum efficiency.
Grinding
02
Grinding allows to smooth the surface of the pipe, remove roughness and prepare it for welding. Grinding is done automatically on a European equipped machine using abrasives. This step of grinding also allows us to identify the smallest defects before welding and to eliminate the possibility of loss of the highest quality product. After satisfactory grinding control, the pipe is ready for further processing.
Welding
03
We use handmade and robotic welding. All welding work takes place in an argon atmosphere (argon-arc welding), which requires high-quality welders, special welding workstations and robotic high-quality equipment. Each welding seam is checked separately visually and technically.
Pressure check
04
Each product undergoes a pressure test of 22 bars by air to ensure the high quality of the work of welding masters and absence of leakage. This pressure check is not the first or last, but undoubtedly is the most important of all next check steps.
Welds cleaning
05
Handling of weld seams after welding gives elegant and neat appearance of products. Definitely a lot attention is paid to this stage of production. We care about the quality of our products, so we clean all welds seams manually, providing an excellent coupling of ribs.
Electropolishing
06
We polish products in special baths by electrolysis to a mirror finish. This emphasizes the nobleness as well strength of stainless steel and removes any scratches received during the manufacturing of the product.
Each unit of our products in any case goes through the designing, producing, testing or all of the above by handmade, which ensures the highest level of quality performance.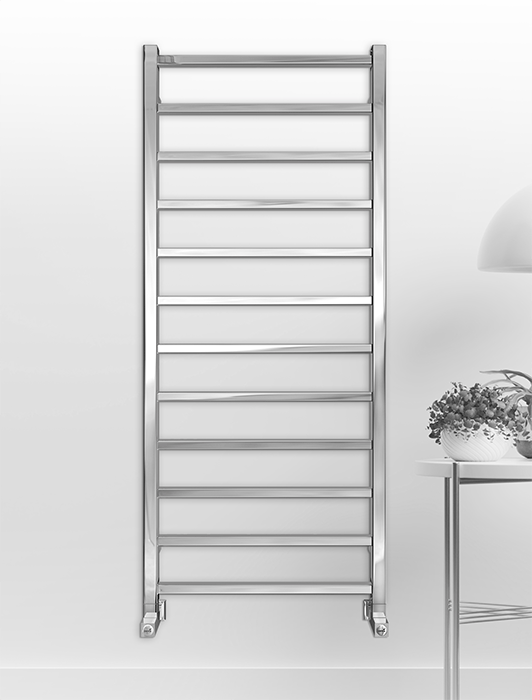 Mario ME Ltd
Manufacturer of stainless steel towel rails and design radiators
Our mission is producing high-quality goods for our partners and provide them and the consumers with comfortable service. We are happy to contribute to industry development while remaining a large family and a team of highly qualified employees, ready to bring new ideas to the industry and develop new technologies.