How to save energy, in particular in the bathroom, without losing comfort?
The issue of energy resources saving is an urgent issue at the moment. In this article we will tell you how to reduce the amount of energy used at home yourself, while not limiting yourself in the usual comfort.
Let's have a look at the heated towel rail - the appliance which is in almost every home. In most cases, it is not used as a main source of heating the bathroom, but to dry towels and clothes. Therefore, the constant excessive operation of the heated towel rail leads to extra use of energy: electricity, gas, etc. Using the device only when necessary - for 3-6 hours a day to dry clothes is the way out. This will reduce the energy consumption of the heated towel rail by 4 or even 8 times a day.
Let's consider an example: a heated towel rail with a capacity of 150 W uses 3600 W of energy per day (24 hours of constant operation), and 900 W for 6 hours - 4 times less. According to statistics, the heated towel rail works profitably for about 6 hours a day, therefore it works in vain during the rest of the 18 hours!
How to manage the operating time of the heated towel rail?
There are three options of towel rails that have the following function:
1. Electric towel rail (water model + heating element, which has a timer function and a temperature regulator).
2. Dual fuel (combined) towel rail (water model + heating element, which has a timer function and temperature regulator, + heating element valve)
3. Electric towel rail with a dry heater and timer-regulator.
Let's consider all options.
Most of the water models of Mario heated towel rails can be equipped with a heating element that connects to an outlet. Such towel rails are powerful and suitable both for heating the room and for drying clothes. But on the other hand, this leads to excessive use of electricity. To reduce costs and regulate the temperature and working time, you can choose a heater with the function of controlling the towel rail heating.
In order to convert a water towel rail to an electric one, you need to purchase a heating element and a coolant. The other expense will be the service of refueling the towel rail with coolant at the factory, which will guarantee its correct functioning.
So, an electric towel dryer consisting of a water model with a heater is powerful, but has significant disadvantages such as high cost and energy consumption.
The dual fuel (or combined) towel rail is a water model with an electric heating element, but connected to the heating or hot water supply system at the same time. In the warm season, the water supply from the system is shut off and the heating element is turned on. Such a towel rail is powerful and will work at any time of the year, and in the cold season, working from the central or district heating system, it will not consume electricity.
To convert an ordinary water model to a combined one, you need to additionally purchase the heating element itself and a set of the heating element valves to connect it. To install a towel rail, it is necessary to connect to the heating system and pipes, which considerably complicates installation. Complicated installation and higher cost of the towel rail itself are two significant disadvantages of a dual fuel heated towel rail, especially if its main function is to dry towels.
Mario electric towel rails are towel rails with a dry heater. Such towel rails do not require any coolant or additionally installed heater for operation. Therefore, the technology is called "dry", since the heater has no contact with liquid coolant. There is a special heating cable and heat accumulating layers inside of the pipe. It allows even heat distribution and precise temperature control. The base of the cable is a nichrome heater with insulation. Double-layer silicone insulation provides a high level of protection against electric shock and water/dust ingress (IP44 level), which is confirmed by international tests and European certifications such as LVD, EMC, RoHS, etc. The electric towel rail is notable for its affordable price and ease of installation, because everything needed for installation is already included in the set.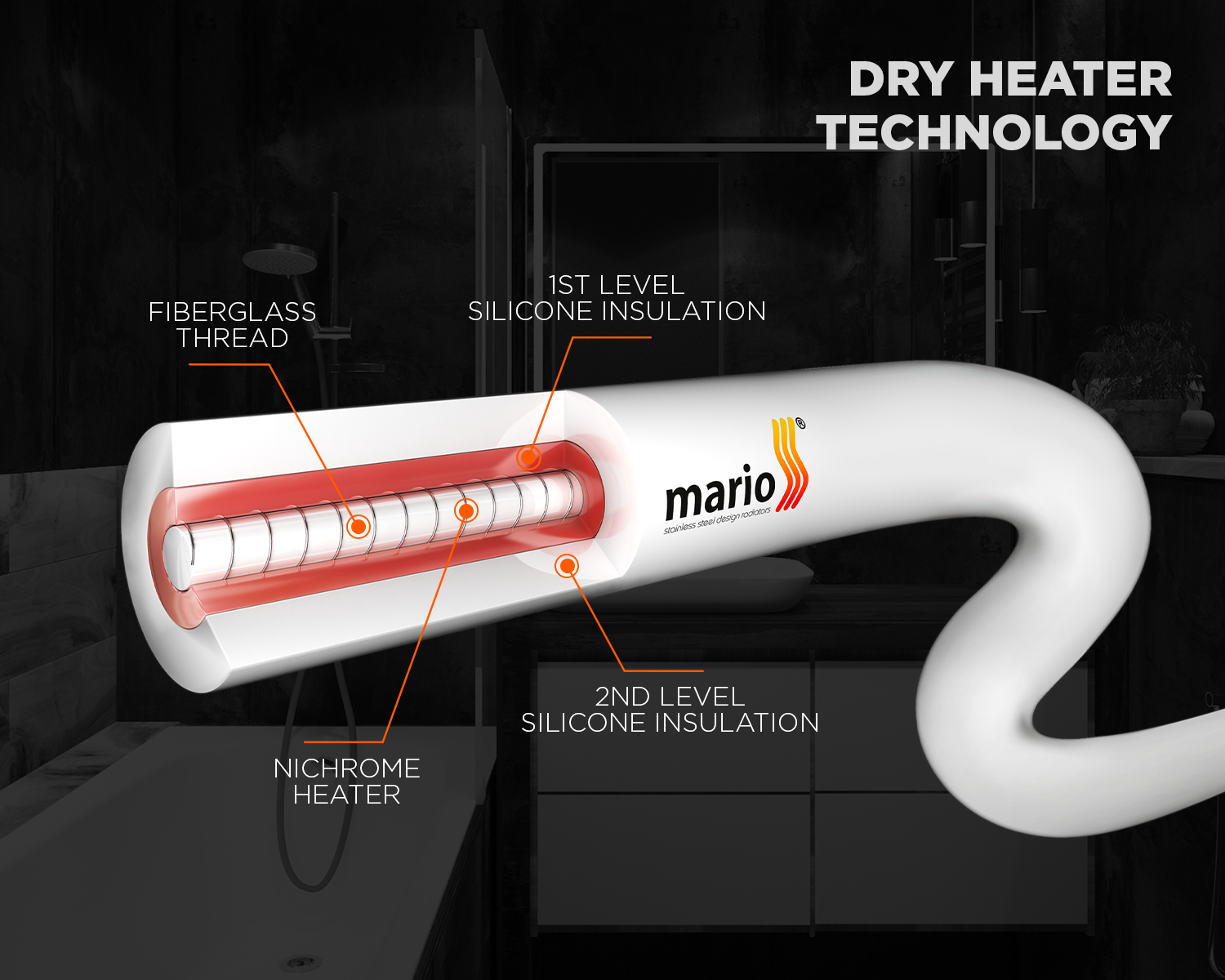 Thanks to the dry heater technology, Mario electric towel rails have low power consumption and high productivity, so they consume very little electricity. They are equipped with a timer-regulator that allows you to set the needed temperature and operation time of the towel rail: 3, 6 hours or constant heating. And thanks to the Eco Mode mode, you can turn off the option of constant heating and use only the timer: so you don't need to worry whether you left the towel rail on in a hurry for the whole day - because it will automatically turn off after 3 or 6 hours, and your towels will be waiting for you already dried. In addition, the timer-regulator of the electric towel rail will maintain the set heating temperature regardless of the ambient temperature.
So, what will you choose: a powerful but expensive water heated towel rail that consumes a lot of electricity, dual fuel towel rail - difficult to install, but with high heat output, or a high-tech affordable "dry" electric model?
Electric towel rails with a dry heater are our future, in which we use energy resources wisely and thrifty, living in comfort.
Water rails
Electric rails